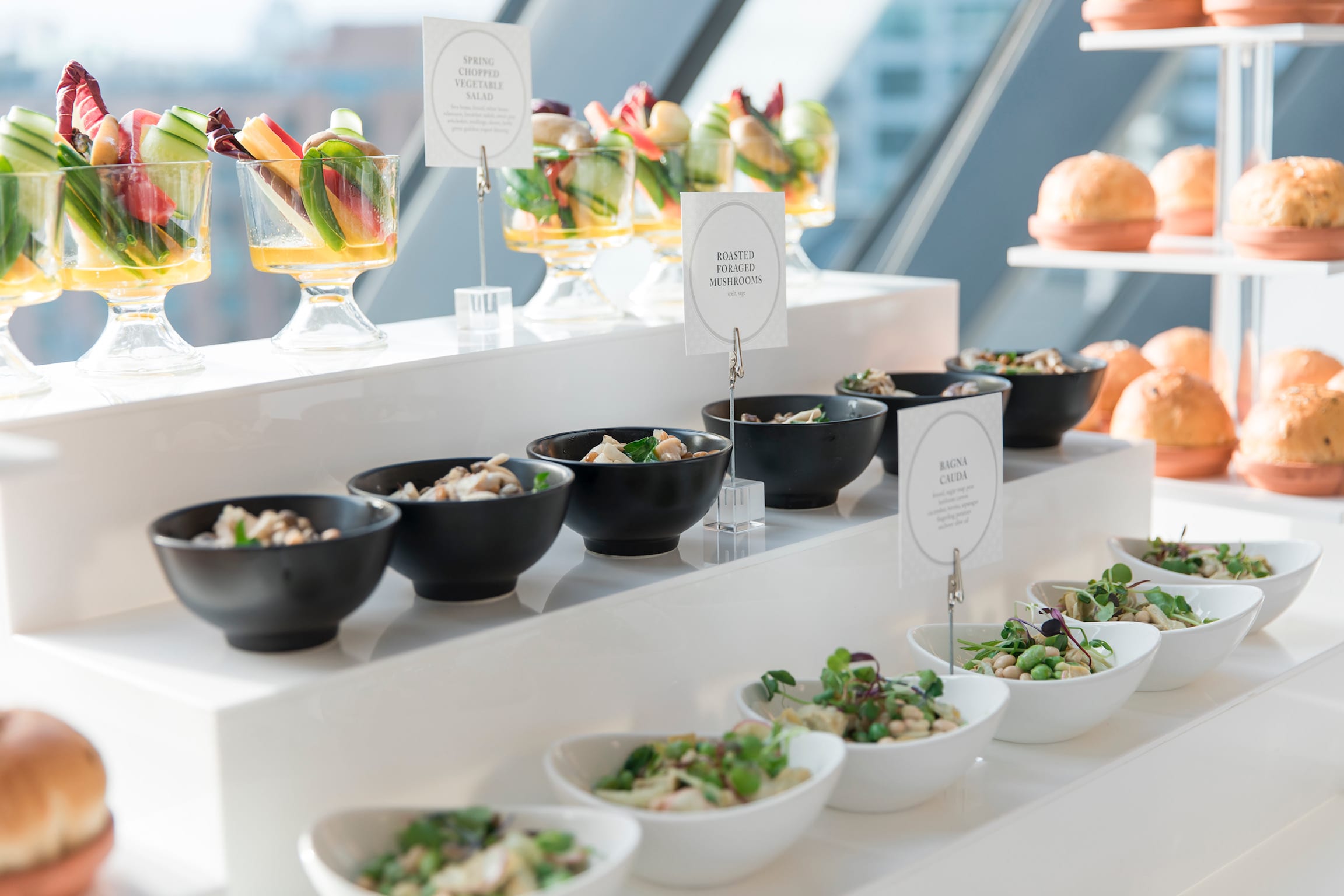 Sample Menus
We Are a Custom Catering Company
Our specialty is to meet with you and create a bespoke menu for your special occasion.
However, please find below some chef-curated menus for inspiration as well as easy order and holiday specific menus for corporate meetings and family meals.
The Great Gobbler
To order from this menu please visit us here.
The Turkeys
We recommend either deboned or
fully carved, since it fits easily into your oven, and reheats perfectly!
1/2 Turkey Dinner
6-7 lbs (serves 4-6 ppl)
$190
Small Turkey Dinner
12-14 lbs (serves 10-14 ppl)
$350
Large Turkey Dinner
25-30 lbs (serves 25-30 ppl)
$675
Deboned and sliced by you
Add 10.00
Breast(s) | Thigh(s) | Drumstick(s) | Wing(s)
Deboned and sliced by us
Add 20.00
Sliced Breast(s) | Sliced Thigh(s) | Drumstick(s) | Wing(s)
Included
Turkey Dinners come with choice of 4 sides.
Please select from the options below. Turkey gravy, cranberry sauce, and soft dinner rolls with creamery butter are also included.
Whole Roasted Turkey Breast
(sliced and de-boned; a la carte)
accompanied by turkey gravy (1 L),
and cranberry sauce (500 ml)
5-6 lbs (8-10 ppl)
$100.00
Sliced Roasted Turkey Breast
Available for Canadian Thanksgiving and Christmas only
(a la carte, per 8 oz portion)
accompanied by homemade turkey gravy
$16.00
Sides
Choose 4, included in your turkey dinner
Stuffing
apples, cranberry, croutons, onions savoury, and sage
Yukon Gold Mashed Potatoes
Sweet Potato Mash
Broccoli
with sea salt and olive oil
Brussels Sprouts
with pancetta
Maple-Glazed Carrots
with toasted pepitas
Scalloped Potatoes
Roasted Root Vegetables
potatoes, sweet potatoes, carrots, turnips, parsnips,
sweet onions, and roasted garlic
Individual Dinners
Available for Canadian Thanksgiving and Christmas only
Includes Stuffing, French Green Beans, Maple Glazed Carrots with Toasted Pepitas & Cranberry Sauce
Turkey
Sliced turkey breast, mashed potatoes & gravy
$29.50
Salmon
Maple glazed salmon fillet, sweet potato mash
$26.50
Vegan
Vegan root vegetable pot pie
$24.50
Add-Ons
Butternut Squash Soup
3-4 ppl
$15/L
Roasted Mushroom Soup
3-4 ppl
$15/L
Pear Salad
X-small, 4-6 ppl
$55
Small, 7-10 ppl
$75
Medium, 11-15 ppl
$110
Caesar Salad
X-small, 4-6 ppl
$35
Small, 7-10
$50
Medium, 11-15 ppl
$70
Scalloped Potatoes
1/2 pan, 12 ppl
$45
Desserts
Apple Crumble Pie
9" (6-8 portions)
$25
Pumpkin Pie
9" (6-8 portions)
$25
Pecan Pie
9" (6-8 portions)
$35
Vanilla Bean Cheesecake
9" (6-8 portions)
$50
Spring
PASSED HORS D'OEUVRES
based on 4 pieces per person
smoked salmon on a mini potato gaufrette
with crème fraîche and dill
mini mixed mushroom white pizza
fontina, truffle oil and thyme
asparagus arancini
fontina centre, lemon aioli dip
beef ribbon skewers
hoisin and cashews
The Plated Dinner
On the Guest Tables
L-eat's own rosemary and sea salt focaccia
ace bakery whole wheat baguette
mixed seed flat breads
creamery butter balls
white bean and mint dip
Appetizer
strawberry salad
boston bibb, red leaf lettuce and baby arugula
presented in a cucumber ribbon
strawberries, candied pecans and goat cheese
honey rosemary dressing
Main Course
guests will be offered a pre-determined choice from the following:
roasted stuffed chicken breast supreme
sun-dried tomatoes and caramelized onions
yukon gold mashed potatoes with basil
green asparagus bundle
fresh basil
garganelli primaverde
broccoli, sugar snaps, fava beans, sweet pea pesto
parmesan cheese
Dessert
passion fruit crème brûlée
mint and fresh berries

staffing and rentals coordination available, pricing is approximate and may vary depending on guest count and product costs
Late Summer
PASSED HORS D'OEUVRES
based on 4 pieces per person
chipotle beef short ribs in a taro taco
purple cabbage and heirloom carrot slaw, guacamole, cilantro
coconut breaded shrimp
with honey jalapeno dipping sauce
mini aged cheddar grilled cheese with caramelized onions
on mini brioche loaf slices
salad rolls
vermicelli noodles, mango, daikon, carrot, snow pea, lolla rossa sweet chili sauce
smoked chicken and mango salad
with mango aioli in a phyllo cup
The Plated Dinner
On the Guest Tables
L-eat's own rosemary and sea salt focaccia
ace bakery multi grain and white rolls
mixed herb flat breads
creamery butter balls, artichoke and chickpea dip with lemon
Appetizer
grilled peach bellini salad
endive, arugula, treviso, dried fig, pistachios, mint, edible flowers and bellini dressing
Main Course
guests will be offered a pre-determined choice from the following:
roasted manhattan cut ny striploin
succotash of sweet corn and red pepper
smashed redskin potatoes with fresh herbs
french green bean and heirloom carrot bundle
fresh rosemary
maple syrup glazed salmon fillet
roasted fingerling potatoes with fleur de sel
french green bean and heirloom carrot bundle
green pea sprouts
butternut squash risotto
arborio rice, salt roasted butternut squash, crispy sage
Dessert
lemon sabayon tart
pine nut crust, raspberry gelees, strawberry meringue kisses, fresh berries and lemon balm

staffing and rentals coordination available, pricing is approximate and may vary depending on guest count and product costs
Fall & Winter
PASSED HORS D'OEUVRES
based on 4 pieces per person
pistachio crusted rack of lamb
sour cherry compote
lobster and gouda mini grilled cheese
on miniature brioche loaf slices
king oyster mushroom "scallop"
sweet pea and mint purée
petite greek salad in a cucumber barrel
oregano dressing, crumbled feta
squash and truffle arancini
fontina centre, roasted garlic aioli
tuna tartare in a wonton cone
sesame oil, lime, tomato, avocado, sambel mayo, red tobiko
Cocktail Food Station
(optional)
Raw Bar
jumbo cocktail shrimp
with horseradish ketchup
freshly shucked oysters
in the half shell
(optional – approx $28 per person)
Condiments
mignonette sauce
lemon wedges
tabasco
worcestershire
freshly grated horseradish
cocktail sauce
THE PLATED DINNER
On the Guest Tables
L-eat's own rosemary and sea salt focaccia
presented individually in terracotta dishes & served warm
extra virgin olive oil
sundried tomato tapenade
warm citrus marinated olives
Appetizer
beet caprese salad
roasted golden heirloom beets, pickled red beet cubes
mozzarella di bufala
pistachio pesto, pomegranate seeds
shaved candy cane beets and mint

Pasta Course
ricotta gnocchi
tomato basil sauce
grana padano parmesan
Main Course
guests will be offered a pre-determined choice from the following:
roasted beef tenderloin "poutine"
smoked beef short rib jus
mashed potatoes with aged cheddar, cheese curds
panko crusted onion ring
heirloom carrots and brussels sprouts

truffle honey caramelized black cod fillet
seared shiitake mushrooms
roasted sea salt fingerling potatoes
heirloom carrots and brussels sprouts
roasted cauliflower steak with salsa verde
chickpea tahini spread
wild rice and grain pilaf
heirloom carrots and brussels sprouts
grilled lemon
Dessert
chocolate peanut butter tart
chocolate and peanut butter ganache
peanut butter ice cream
peanut brittle tuile,
raspberry coulis and candied peanuts

staffing and rentals coordination available, pricing is approximate and may vary depending on guest count and product costs
The Passed Hors D'Oeuvres Sample List
$2.25 to $6.50 per piece
Meat Options
rare filet of beef
with truffle aioli and micro sprouts on ficelle crostini
mini truffled beef burger
with gruyère, sautéed mushrooms, pommery aioli on a brioche bun
held together with a bamboo knot skewer
chipotle beef short ribs
in a taro taco with purple cabbage and heirloom carrot slaw, guacamole and cilantro seedlings
served in a custom plexi taco holder
lamb "lollipop"
pistachio crusted rack of lamb with sour cherry compote, garnished with micro sprouts
Poultry Options
black and white sesame crusted frenched chicken chop
with hoisin sauce
smoked chicken breast and mango salad
with mango aioli in a phyllo cup garnished with pea sprouts
chicken breast with honey garlic sauce in a wonton cone
topped with crispy carrot threads
served in a plexi cone tray
southern fried chicken tender in a waffle cone
with maple syrup aioli, chive rounds to garnish
served in a plexi cone tray
Shellfish Options
rock shrimp tempura
tossed with chili mayo and chives, topped with chili mayo
served in an asian spoon
coconut breaded shrimp
with honey jalapeno dipping sauce
butter poached lobster
garnished with chervil
served in a cocktail spoon
lobster grilled cheese
with brie on miniature brioche loaf slices
Fish Options
smoked salmon
on a mini potato gaufrette with crème fraîche and dill
tuna tartare in a wonton cone
with sesame oil, lime, tomato, cubed avocado and sambel mayo,
topped with red tobiko
served in a plexi cone tray
mini fish taco
with crispy halibut, papaya and cilantro slaw, lime aioli in a taro taco,
garnished with a pea sprout
served on custom plexi taco tray
branzino crudo
with avocado, kimchi, lime, evoo and maldon sea salt
served on tasting spoon
Vegetarian Options
asparagus arancini (risotto ball)
fontina cube centre with lemon aioli dip
passed on a sampler platter with bamboo knot skewers
miniature grilled cheese
with aged white cheddar and chopped caramelized onions on mini brioche loaf slices
petite greek salad in a cucumber barrel
with oregano dressing, topped with crumbled feta
orzo mac 'n' cheese with truffled grana padano cream sauce
garnished with a parm crisp
served in a tasting spoon
mini white pizza
with mixed mushrooms, fontina, truffle oil and thyme
Vegan Options
steamed vegetable dumpling
with soya sauce
served on chinese spoons
"caprese salad"
cherry tomato stuffed with herb whipped tofu, topped with a kale chip
watermelon barrel
with avocado "cream" and toasted hemp seeds
vegetarian salad rolls
with vermicelli noodles, mango, daikon, carrot, snow pea, lolla rossa with sweet chili sauce
cucumber barrel filled with tri-coloured tabouli quinoa salad
with fresh mint and lemon dressing
Sample Food Station List
$15 to $36 per station
The Dim Sum Station
lai wah heen steamed dumplings
to include such varieties as
chicken and chive
crystal shrimp (har gow)
scallop and bok choy
pork sui mai with scallop and shrimp
vegetable
steamed bbq pork buns
served with spicy conpoy sauce, soya sauce, chinese hot mustard, sriracha
The Deconstructed Sushi Station
warm sushi rice
our chef to top off with guests choice from the following
cubed ahi tuna tartare
cubed salmon tartare
sweet shrimp
guests to top with
white pickled ginger, soya sauce, sriracha mayo, chili mayo, white miso dressing, red and green tobiko, edamame, toasted black and white sesame seeds, quick pickled shitake mushrooms, crisp nori threads, mango cubes, cucumber cubes, crispy wonton threads, avocado cubes with lime
The Slider Bar
variety of burgers to be determined based on number of guests
beef burger
with orange cheddar, mac style sauce, boston bibb lettuce and pickles on a slider bun
truffled beef burger
with gruyère, sautéed mushrooms, pommery aioli
tuna "burger" (seared rare tuna loin)
with peas sprouts and wasabi lime aioli
portobello burger
with goat cheese, green goddess aioli and sweet pea sprouts
lamb loin burger
with tzatziki sauce
salmon burger
with hoisin, lime and scallions, topped with cucumber and pea sprouts
chicken breast burger
with chipotle aioli and butter lettuce
turkey burger
with cranberry aioli and baby arugula
served on brioche buns
The Gnocchi "Poutine" Station
pan fried sweet potato and yukon gold potato gnocchi
toppings to include
Meats
shredded duck confit
pulled south carolina pork or smoked beef short ribs shredded jerk chicken
Cheeses
smoked cheddar, white mozzarella curds, goats cheese
Toppings
crispy shallots, chopped pickled jalapeños, sautéed mushrooms
Sauces
gravy, chipotle sour cream
The Shanghai Noodle Station
prepared in a wok by our chef in clear view of your guests
miki noodles, baby corn, bean sprouts, broccoli, shredded cabbage, snow peas, julienne of peppers and carrots (no onion)
and choice of
chicken breast
shrimp
tofu
with hoisin stir fry sauce
served in 16 oz chinese take-out boxes with chopsticks
accompanied by lee kum kee chili garlic sauce and toasted sesame seeds
The Salad Bar
romaine lettuce, chopped ice berg lettuce, baby arugula
mixed with choice of dressing
honey rosemary, caesar, balsamic
topped off with halved yellow and red cherry tomatoes, cucumber cubes, roasted red peppers, artichoke hearts, edamame, hearts of palm, roasted pear, mango cubes, seedless mandarin oranges, dried cranberries, candied pecans, toasted pine nuts, toasted pumpkin seeds, croutons, shaved parmesan, feta cheese, goat cheese
The Risotto Station
varieties to be determined based on the number of guests, price to be determined based on selection(s)
prepared with arborio rice, grana padano parmesan and white wine
asparagus risotto
asparagus purée, asparagus tips and grana padano
wild mushroom risotto
with truffle oil
beet risotto
with crumbled goat cheese
butternut squash risotto
with grana padano
sweet pea and pancetta risotto
smoked chicken and tomato risotto
seafood risotto
with shrimp, bay scallops, calamari and octopus, flat leaf parsley
The Steak Frites Station
chef carved ny triple aaa striploin
served with house-made yukon gold potato frites with fresh herbs
accompaniments include
béarnaise aioli
pommery mustard
caramelized onions
sautéed mushrooms
red wine jus
grated horseradish
mayo
ketchup
The Mozza Bar
canadian burrata
mozzarella di bufala
fior di latte bocconcini
served with
thinly sliced prosciutto di parma
basil pesto, paese evoo, cherry tomatoes, fresh basil, oven cured cherry tomatoes, artichoke hearts, roasted mushrooms, toasted pine nuts, sun-dried black olives, caper berries, fresh figs (based on availability), truffle honey, trio of salts, grissini, crostini
The Chicken and Waffles Station
buttermilk fried boneless chicken
served over top of waffles made fresh at the station in cast iron grills
served in mini oven dishes with local maple syrup
The Taco Station
ancho sauced short rib
with radish and crema chipotle
chicken
with grilled corn and cotija cheese
crispy halibut
with shredded cabbage, radish and crema
guests to top off with
guacamole, pico de gallo, mini lime wedges
The Lettuce Wrap Station
iceberg lettuce cups
filled with guests choice of
szechuan textured soy protein
szechuan chicken breast
guests to top off with
toasted black and white sesame seeds, crumbled roasted cashews, cilantro, green onion, red finger chilis, vegan hoisin sauce, sabel aioli, lime, glass noodles, crispy rice noodle julienne